Naples Wind Mitigation Inspections
As anyone who lives on the gulf coast knows, the Florida weather can be unpredictable. From sunny days one moment, to hurricane force winds the next; your home's exterior can take a beating. This volatile weather has led many insurance companies to hike their premiums by 50-60-and even 70%.  These cost increases are not limited to premiums. In many cases deductibles have also increased, making storm season potentially more costly than ever for Naples families. But there is a solution.
Save Money While Protecting Your Home
A strong, well built roof is the first and best protection for your home when the storms hit Naples. Besides providing extra protection for your family and for your investment, did you know that a new roof may have the potential to save you money on your insurance rates? Recently, Florida State Law requires that insurance companies offer discounts on premiums and credits to homeowners who take precautions to protect their homes in the events of high winds and storms. These special discounts aren't available to just anyone, however. They are only available to homes that receive a certified wind mitigation inspection from a licensed contractor.
What You Need To Know About Wind Mitigation Inspections
Most insurance companies assume your home has NO wind resistant features, and their premiums reflect this. However, there are several categories of potential discounts for homeowners based on hurricane damage mitigation strategies implemented on the home. These could include the type of roof covering, the geometry of the roof, and any secondary water resistance features. 
In order to qualify, homeowners must be aware of a very important date, March 1, 2002. If your home or roof was constructed after this date you may already have hurricane damage mitigation features installed on your roof. If it was built prior to this date, our team of inspectors can help determine the best plan of attack to help save you money on your insurance premiums.  Our wind mitigation inspections in Naples, FL, document any wind-resistant features your home has, and almost all homes have some wind resistant features.
Of course, the first step in the road to saving money is to call the team at CWC Roofing. Our team will help determine the best plan of attack to protect your home, and your pocketbook.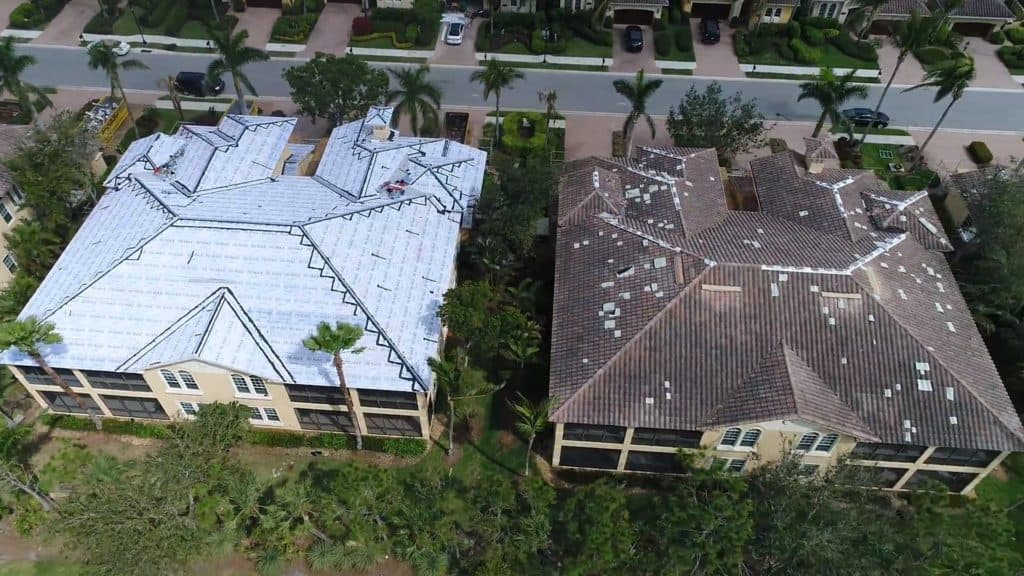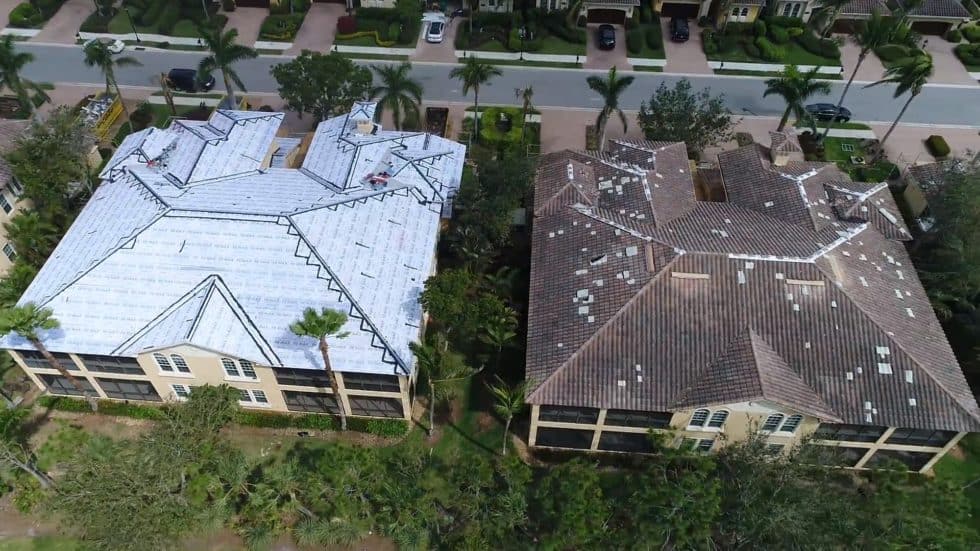 CWC Roofing Can Provide An Eight Point Wind Mitigation Inspection For Your Home
The experts at CWC Roofing and Exteriors can facilitate all your large scale roofing construction needs. We help companies across the nation with all aspects of the roofing design and build process. From basic planning to detailed engineering help, we'll take care of the details so your build goes smoothly.
Our team of state certified inspectors will evaluate the following features that can help to reduce wind damage to your home.
Exterior Wall Construction
Is your home built with reinforced concrete block construction? You may be eligible for a discount.
Opening Protection
We will inspect and evaluate all the exterior doors and windows on the home. 
Secondary Water Barrier
From self adhering membranes to foam adhesive applications, these barriers act as a second layer of protection from the elements. Installed under the roof, most insurance companies require photographic evidence as well as a certification from a licensed inspector.
Roof Shape
Hip roofs are, by design, more likely to be able to withstand gale force winds, which could impact your rates. 
Roof Covering
Age, quality of materials, wear and tear; all factor in to longevity of your roof and its ability to withstand a storm.
Roof Decking Attachments
From thickness to weight, the type of decking material may also have an impact on the roofs ability to withstand a storm. Even the length of screws or nails and their placement is inspected.
Roof to Wall Attachments
Our inspectors will evaluate every angle of the roof, including the trusses and the walls to assess the strength of the roof and its related parts, like metal connector wraps and hurricane clips. All play a role in longevity in a storm. 
Gable End Bracing
For homes with a gable style roof, these ends are inspected to ensure that they are reinforced to meet current building code and weather proofing standards. 
Of course each roof is as unique as the home it is attached to,
so we specialize in helping to craft custom solutions for any of your wind mitigation needs. We believe in creating lasting relationships with our clients, so we are happy to document and provide proof to your insurance company once any repairs are made. Of course, saving money on your insurance rates is only one of the benefits of working with CWC Roofing for your wind mitigation inspection needs. The peace of mind, knowing that your roof is built to the highest possible standards brings a new level of value.
Ready to Get Started?
If you would like to see how CWC Roofing can help ensure your home is prepared to weather all of the elements that the Florida coast has to offer, call us today. We are happy to discuss your unique needs and craft a plan that is right for you.  
I worked with Shane to get my church's roof replaced. His price came in under the other roofing companies, by quite a bit. The crew that showed up was respectful, on-time, and much faster than I expected. When the Inspector came out to check the roof for our extended warranty, he told me it was "One of the better looking TPO roofs he had seen," and it should last the church another 25-30 years. Great company, great customer service, and great end product.
I have been working with CWC Roofing and Greg Oeltjen for over 4 years at our Multi Family Developments as well as some personal houses that I own. This company has always done a GREAT Job with every project I have hired then to complete for us Large and Small. Not only has this company done a GREAT Job for us on EVERY Project they have also been the most fair and reasonable vendor I have ever used for Roofing, Siding, & any all Exterior Repair and Replacement projects. I just can not say enough GREAT things about this company !
We've worked with Chris and his team for years for all of our roofing and exterior work. We're real estate investors doing several projects a year and they've consistently had the best pricing, service, and quality we can find. I highly recommend Chris and the CWC team for all of your exterior work. Can't say enough great things about them.
I'm really impressed with this company and the people that represent them. I had a very bad roof replaced here in Naples, FL. The crew worked diligently, efficiently, and cleaned up as best as possible at the end of each day. CWC is so good at what they do that I've been asked countless times from friends and neighbors for a referral. Totally worth it!
We had our roof redone by CWC and they did a great job. Everyone was so professional and they took extreme care to not damage any of our items around our home. They were so polite anytime they needed us to move a vehicle or anything that was in the way. They always let us know when they were going to start working and made sure to clean their mess. I would recommend them to anyone looking for a great company to work on your home.